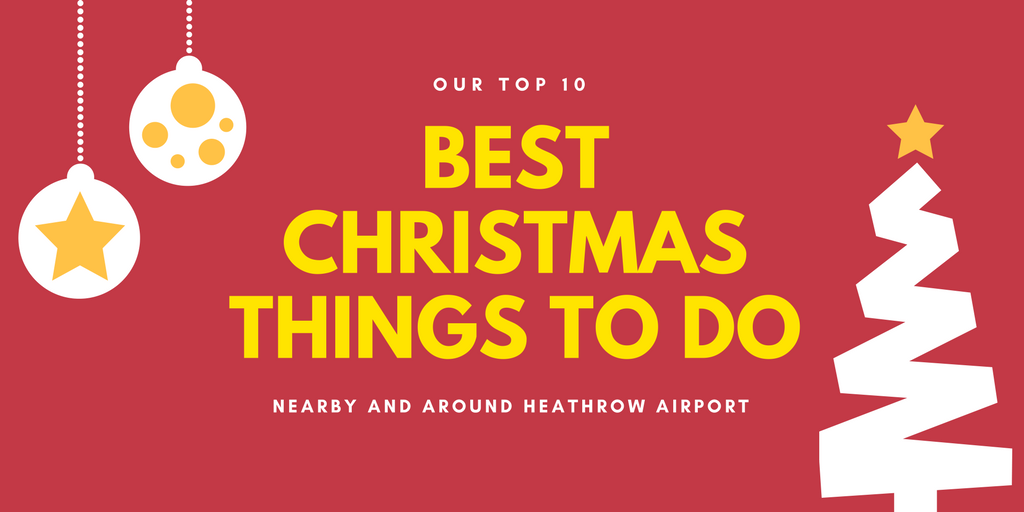 Ready or not, it's time to bring out those advent calendars, dust off the decorations from last year and order your Christmas Turkey… yep, December has landed! So what is there to do near Heathrow Airport this Christmas?
2017 has sped past us and now we're all looking for places to visit and where to buy our Christmas prezzies. Whether you're travelling into the UK or have an afternoon to pass before you board at Heathrow Airport, we've found the best places to get you feeling festive.
Let's take a look at our Top 10 festive things to do and visit near Heathrow Airport:
🌟 Merry Panto Season
There's a world of theatres to choose from in London and many are showing Pantos as well. Cinderella, Aladdin and Jack and the Beanstalk are all playing locally this year.
Our top pick at the theatres this season is The Snowman, showing in Holborn. The story we see on our television screens every year of the beloved snowman who takes a young boy out flying in the air at night, is now coming to the live stage. It's showing at the Peacock in Holborn and it's sure to thaw any frozen heart.
🌟 Painshill Christmas Grotto
You can reach Painshill in 20 minutes from Heathrow and it makes a great family day out. The best thing is you can easily fit around your schedule. So if you have a couple of hours spare before getting on a flight, or are looking to spend the whole day, Painshill can help.
Their famous crystal Grotto dates back to the 1770s and will have Father Christmas visiting from December 2nd to the 24th. Pop in and fall in love with Christmas all over again in the magical Crystal Grotto at Painshill.
Secret crystal grotto at Painshill, in Cobham #explore #livinglondon pic.twitter.com/jyvMwysOW0

— Living London (@livinglon) October 2, 2017
🌟 Osterley Park and House, National Trust
National Trust is well known for putting on great seasonal family activities and Osterley Park is no exception.
The House, which is only a 15 minute drive from Heathrow Airport, will have a Grotto with Father Christmas, wreath making stalls and some festive treats on the cafe menu. It's great for kids, mums and dads alike!
Here's when you can pay a visit to Father Christmas!
Father Christmas' Grotto: 2nd to the 17th of December
Wreath making: 5th to 14th of December
Christmas star hunt: Included in general admission
There's still time to book your place in one of our wreath workshops, and bring some winter beauty to your home with greenery cut fresh from the Osterley estate. Visit https://t.co/M9AFvHrHbh to book. pic.twitter.com/MhsxgTjtrs

— Osterley Park (@OsterleyNT) November 27, 2017
🌟 Windsor Great Park and Castle
Windsor Castle is one of the most distinguished Royal Residences and recently hosted the Queen's 90th Birthday celebrations.
You might recognise it's gorgeous halls from films such as Young Victoria. But did you know, you can also take a crisp winter walk around Windsor Great Park as well?
Here's how you can celebrate this year's Christmas in royal style;
The Festive Weekend: Join family activities all weekend, 9th and 10th of December
Kids' Activities: Every Saturday in December there are fun and festive crafts
Gifts: Get inspired with the Castle's Christmas gift collection
Immersive Christmas Carol performance: book in advance for performances 16th December to 4th January.
Find more about Windsor Castle's Christmas festivities as well as walking in a winter wonderland at Windsor Great Park.
Christmas has arrived at Windsor Castle! 🎄 This 20-ft Nordmann Fir tree in St George's Hall is entirely dressed in gold decorations. Visit this December: https://t.co/md8IYc0C8g pic.twitter.com/9OOknSPapt

— RoyalCollectionTrust (@RCT) November 25, 2017
🌟 Kingston Christmas Market
Just half an hour from Heathrow, Kingston's Christmas Market is back by popular demand.
With fab entertainment for the kids, as well as traditional stalls full of fresh festive goodies and locally made crafts, it's the perfect place for a Christmasy pit-stop! If you're looking for a steaming cup of mulled wine or a place to pick up some quirky homemade gifts, Kingston Market is the place to be.
Explore Kingston Christmas Market, open 10am-6pm Sunday to Wednesday and open late until 8pm from Thursday to Saturday.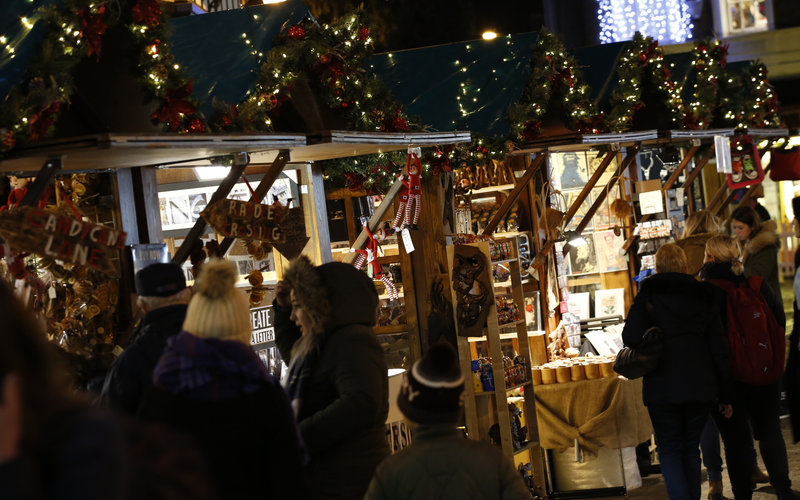 🌟 Lapland UK, Whitmoor Forset
Santa Claus is coming to town… and you can catch him at Whitmoor Forest's Lapland UK experience. It's a great day out for the whole family. It's approximately half an hour drive from the airport so you can take a Heathrow taxi, hire a car or drive yourself.
Have you been naughty or nice this year? You can find out between Saturday 18th November and Sunday 24th December. You have to book your tickets in advance and your tickets can be emailed or posted to you and your fellow adventurers.
Believe in Santa this year at Lapland UK
Along the magical elven pathways you'll find…#LaplandUK #ItsTruehttps://t.co/blsU0HMfIC pic.twitter.com/YoPFYAYKSw

— LaplandUK (@laplanduk) November 13, 2017
🌟 Christmas at Kew Gardens
The incredible Kew Gardens is only 20 minutes away from Heathrow Airport and if you think that you can only visit the Gardens in spring, think again!
Kew is a simply magical place at this time of year. Their tropical plants are encased in the original Victorian Greenhouses and even though it may be frosty on the ground, there's still loads to see from the dizzy heights of their Treetop Walkway or in their craft and christmas hub. They're brimming with activities and stories for the kids and local crafts for the grown ups, too.
During the day, visitors can get stuck into a variety of activities within the steamy tropics of Kew's magnificent Princess of Wales Conservatory and uncover the science behind the plants that flower in winter months.
On top of all of this, you can enjoy an unforgettable light display as the main greenhouse becomes a wonder of Christmas cheer every evening. You'll also get the chance to see Santa and his Elves, and enjoy Christmas treats such as mulled wine and roasted chestnuts. Remember to book your tickets in advance as they sell out quickly!
🌟 Winter Wonderland, Hyde Park
Our top ten had to include Winter Wonderland in Hyde Park, Central London.
With its traditional fairground rides like carousels and helter skelters, log cabins selling festive ornaments, an ice rink, Bar Ice and a variety of shows every single day, it's a must see attraction for all ages this year.
The Magic has returned! We've planned our best Winter Wonderland ever! But don't take our word for it, hear what visitors have to say… pic.twitter.com/pvByGJ52B5

— Winter Wonderland (@WinterWonderLDN) November 18, 2017
🌟 Hampton Court's Christmas
Heathrow is just down the road from the historic palace of Henry VIII, just 10 miles in fact!
Swinging in at an impressive Number 2, Hampton Court is a magical place to spread some festive joy or if you have a couple hours to spare nearby the airport.
Perhaps most famous for being one of the Royal Palaces, home to Henry VIII from 1528 to 1547 and later inherited by his children, Edward VI, Mary I and Elizabeth I. You may not know that they host an annual Ice Rink Family Activities, Christmas Music Weekend, BBC Good Food's Festive Feast and Carol Singing in the Tudor Courts.
Here's the full list of dates and times that you can enjoy Tudor Christmas Festivities at Hampton Court:
Ice Rink: Open 24th November through to 7th January (booking advised)
Festive Family Activities: 2nd, 3rd, 9th, 10th, 16th and 17th of December (included in palace admission)
BBC Good Food's Festive Feast: 8th to 10th of December (included in palace admission)
Christmas Music Weekend: 16th and 17th December
Courtyard Carol Singing: 16th until the 23rd of December
Have you been to skate at Hampton Court Palace yet? We're open now for what's got to be the most fun royal family day out this Christmas ❄⛸ #HamptonCourtPalace #HamptonCourt #IceRink #Ice #Arena #ArenaIce #London #Londoner #Londonlife #icefestival #ice #iceskating #Christmas pic.twitter.com/hC4UU1tkPt

— Skate Hampton Court (@PalaceIceRink) November 28, 2017
🌟 Regent Street Christmas Lights and stores
If you're looking for the big city lights this year, you have to check out the Regent Street Christmas lights and take a tour of Harrods, Selfridges and the festive street lights – they sure put on a festive display. It's enough to make Scrooge feel festive!
December officially begins in Regent Street with the launch of their 'Customize Your Christmas' studio, a festive hub with a Scandavian Narnian theme to escape the hussle and bustle of London, offering personalised and complimentary experiences. Get your presents wrapped for free, write to Father Christmas, pick up personalised calligraphy gift tags, enjoy festive refreshments and the kids can decorate their own biscuits!
See what's going on when at Regent Street in London.
London's Christmas lights are on now until Jan 5th and they're 24/7 so don't worry about missing out!

If you have a great day out near Heathrow, let us know and spread some Christmas joy! Find local transport options to help you get to these festive days out with our Transport Guide.
Merry Christmas everyone.