Travelling with Pets
Brexit has officially taken place and this inevitably means that there are now new rules regarding travelling with pets. But worry not, we'll break it all down for you in a simple and understandable way!
If you are travelling with pets, here's what you need to know:
Travelling with pets to the EU or Northern Ireland
When you're travelling to the EU or Northern Ireland, your pet needs to be:
Microchipped
Have received a rabies vaccination (but remember that a vet will need proof that your pet is old enough to be vaccinated – normally these start from twelve weeks old.
An animal health certificate but if you don't have that, then a valid pet passport is fine but you need to ensure it's valid in the country you're flying to. But you cannot use a pet passport issued in Great Britain, it must be issued in an EU country or Andorra, Faroe Islands, Gibraltar, Greenland, Iceland, Liechtenstein, Monaco, Northern Ireland, Norway, San Marino, Switzerland & Vatican City State.
Tapeworm treatment is needed for dogs if you'll be flying directly to Finland, Ireland, Northern Ireland, Norway or Malta.
The pet needs to be at least 15 weeks old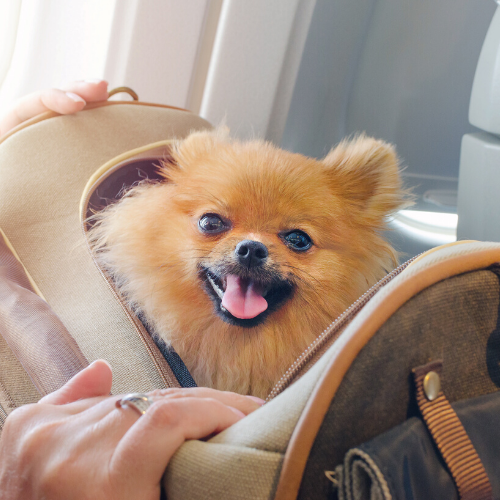 Travelling with pets to a Non-EU country
You'll need to get an export health certificate. If you're in England, Scotland and Wales then you will need to also complete the export application form. The rules for application will differ in all different countries so once you've downloaded the form, you'll know what to do next.
You'll need to pick an official vet who can do the EHC checks. They will see if your pet is in a good health and meets the identification requirement before you can fly.
We recommend you find out if there are any more rules or restrictions for the specific country you'll be flying to.
There may be an age restriction depending on the country you're travelling to, so we recommend you check their requirements before.
Travelling with pets to the UK
In order to enter or leave the UK, your pet will need the following: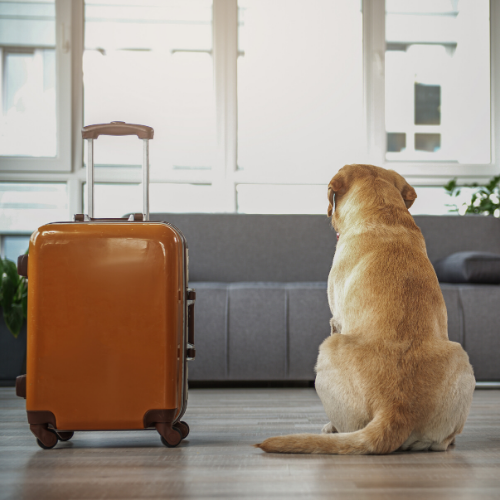 Be microchipped
Have a pet passport or health certificate
Be vaccinated against rabies. They will also need a blood test if you're travelling from a county that's not 'listed'
Dogs will need the tapeworm treatment
Dogs must be older than 15 weeks
Other things to consider:
If your pet doesn't follow the guidelines, it could be put into quarantine for as long as 4 months!
Your pet should only arrive in Great Britain less than 5 days before or after your arrival. If you do not, the pet may be classed as a commercial import and different rules will apply.
You must fill in a declaration form saying that you will not be selling or transferring your pet's ownership
If you're bringing a ferret to England from outside the UK, Ireland, the Channel Islands or the Isle of Man, then you should keep it away from everyone in your household for 21 days. This is because they can catch and spread new variants of the COVID-19 virus!
Before you come to Great Britain, make sure that the company you're travelling with accepts pets for travel.
The rules will differ depending on where you'll be travelling from so make sure you check that!
What are 'Part 1' Listed countries?
Any EU country
Andorra
Azores and Madeira
Canary Islands
French Guiana
Gibraltar
Greenland and the Faroe Islands
Guadeloupe
Iceland
Liechtenstein
Martinique
Mayotte (French territory)
Monaco
Norway
Réunion (French territory)
Saint Barthélemy (French Territory)
San Marino
Saint Martin (French part of the island – French territory)
Switzerland
Vatican City State
What are part 2 listed countries?
Antigua and Barbuda
Argentina
Aruba
Ascension Island
Australia
Bahrain
Barbados
Belarus
Bermuda
BES Islands (Bonair, Saint Eustatius and Saba)
Bosnia-Herzegovina
British Virgin Islands
Canada
Cayman Islands
Chile
Curaçao
Falkland Islands
Fiji
French Polynesia
Hong Kong
Jamaica
Japan
Malaysia
Mauritius
Mexico
Montserrat
New Caledonia
New Zealand
North Macedonia
Russian Federation
Saint Maarten
Singapore
St Helena
St Kitts and Nevis
St Lucia
St Pierre and Miquelon
St Vincent and The Grenadines
Taiwan
Trinidad and Tobago
United Arab Emirates
USA (includes American Samoa, Guam, Northern Mariana Islands, Puerto Rico and the US Virgin Islands)
Vanuatu
Wallis and Futuna.
Unlisted Countries
Unlisted countries will be any country that is not listed in the above countries. So the rules for them are slightly different too. If you're coming into Great Britain from an unlisted country then you need to do the following:
Have a blood sample that has been taken at least a month after the rabies vaccinations
Your vet should then send the blood test sample to an EU approved lab to get it checked
The blood test results need to show that the vaccination was successful
Three months from the date of the blood sample, your pet is allowed to enter the UK. But you won't have to wait for three months if your pet has already been vaccinated.
Your vet should provide you with a copy of the test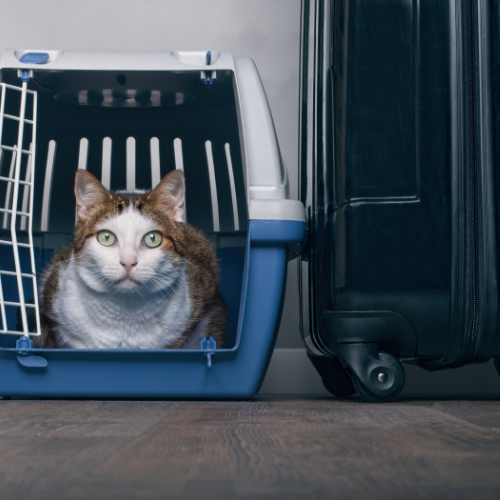 results and enter the date of the blood sample was taken into a health certificate
Documents needed
Now, let's look at what kind of documents you need when you're entering or returning to the UK. We will list the documents below but remember, you will only need one from the list!
An EU pet passport that has been issued in the EU or you can use the UK one too if it's been issued before the 1st of January 2021. This is if you're travelling from the 'Part 1' listed countries
The animal health certificate that's been used in the UK, can be used to travel to the EU. You can also use this certificate to re-enter the UK for 4 months from the issue date
A Great Britain pet health certificate, if you're travelling from a 'Part 1' or 'Part 2' or 'not listed' countries that has not issued a pet passport
What is an Animal Health certificate?
An animal health certificate is what you would need if you want your pet to travel to the EU or Northern Ireland. You can still use your pet passport but only if it's been issued before the 1st of January 2021.
How do you go about getting an animal health certificate?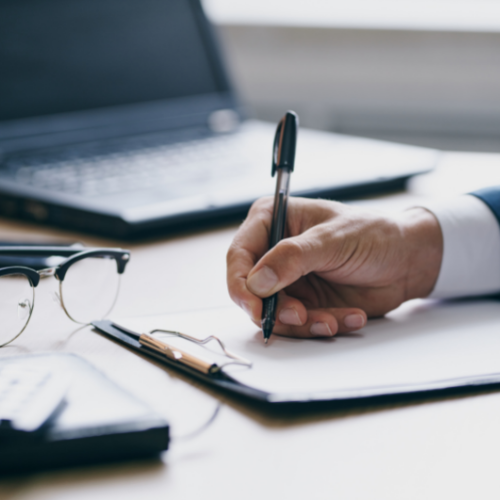 In order for you to get an animal health certificate, you need to
make an appointment with an Official Veterinarian
as only they can issue it. So ask your vet if they can issue you one and if they cannot, they'll probably be able help you find an Official veterinarian. When you go see them, they will to see proof of your pet's microchipping date, as well as vaccination history. The animal certificate will be valid for only a certain time after it's been issued:
It will be valid for 10 days in the EU or Northern Ireland so you'll have to enter the EU or Northern Ireland within that time period
4 months after you've entered the EU
4 months for when you want to come back to the Great Britain
But remember your pet will need a new animal health certificate for every trip you make to an EU country or Northern Ireland from Great Britain. Costs for this certificate will vary between vets.
How to get a Great Britain pet health certificate?
If you need to get a Great Britian pet health certificate, you simply ask your vet to fill out a Great Britian pet health certificate for you. Your pet needs to come to Great Britain within 10 days of obtaining their pet health certificate.
Places that don't require documents
There are some places where your pet can travel from where it will not require documentation upon entering the UK. These places are as follows:
Northern Ireland
The Channel Islands
The Isle of Man
Some exceptions to consider
Cats from Australia
When bringing your cat into Great Britain from Australia, it must have a certificate authorised by an Australian Department of Agriculture. It should state that your cat has not been exposed to a holding that has had Hendra Virus in the last two months before the animal is due to be exported.
Dogs and cats from Malaysia
In this case, the veterinary certificate must confirm that in the previous 60 days before leaving the country, the animal must not have been in contact with pigs or been on any holdings where Niaph disease has been present.
They must also have had a negative result for the Nipah virus antibody carried out by an approved laboratory. The blood for this must have been taken within 10 days of leaving the country.
Guide/Assistance Dogs
Guide dogs are still required to comply with all the requirements of regular dogs, and on top of this,
it is important to have evidence to hand of the training your dog has been through to become an assistance dog.
The majority of the Great British travel companies will accept training by Assistance Dogs International or International Guide Dog Federation.
Unlike other pets, assistance dogs are allowed in the cabin of the aircraft if your flight is leaving from inside the EU. But if you're departing from a non-EU county, the rules could differ so it's recommended that you check with your airline before travelling.
It is best to discuss with the airline what they will expect you to do with your dog in the cabin – some will provide extra space at no cost, others will expect the dog to lie across your feet in the bulkhead row.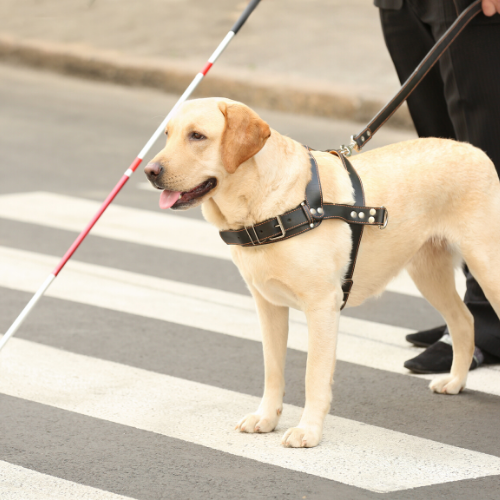 It is worth double-checking this beforehand so that you know what to expect. On top of this, you will be expected to supply a car harness, as you will need to secure your dog to a seatbelt for take-off, landing, and at any time that the seat belt sign is on.
Approved routes
Make sure you check the routes before you're travelling to e nsure that they have approved routes as only certain travel routes are acceptable. You can check that here. When you'll enter the Great Britian, your pet's documents will be checked so be prepared to provide them.
You don't have to use the approved routes to travel into Great Britain if you're coming from the following places:
Other UK countries
The Channel Islands
The Isle of Man
The Republic of Ireland
It is recommended that you talk to your vet to ensure you are aware of all the preparation necessary before visiting.
How many pets are you allowed to bring?
You are only allowed to bring 5 pets into the Great Britian, but there are exceptions and that is if you're attending or training your pet for the following:
Competition
Show
Sporting event
If you're travelling for one of the above reasons, then make sure that you have written evidence of your registration to the event before you travel. You need to ensure that all your pets are:
Attending the event or training
Be over 6 months old
Meet the pet travel requirements
Regulations regarding Crates/Containers' Size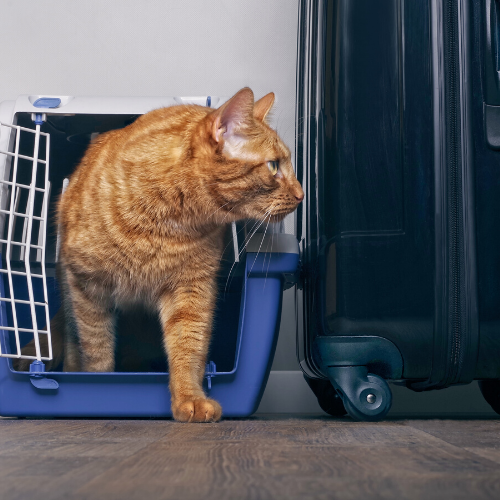 The International Air Transport Association (IATA) has
very strict guidelines on the type of container you can transport your pet in.
For the size, they suggest that within the crate there must be enough space for the animal to naturally stand, sit, lie down and turn around.
To start with, you will want to measure the length of your pet (from the end of the tail to the nose), the height of your pet (at maximum height – therefore to the top of the head), the width of your pet (at the widest part), and the length of their leg. The guidelines suggest the following size:
The minimum length of the crate should be the length of your dog + half the length of the leg.
The height of the crate should be at a minimum the height of your animal.
The width should be at least two times the width of the animal.