Heathrow Lounges
Get your trip off to the best start by spending an hour or two in the lounges at Heathrow Airport.
Heathrow lounges are available in all terminals and most are available to all passengers, regardless of class of travel.
Escaping to an airport lounge is the perfect way to start your trip in a little luxury; whether you're making use of the free Wi-Fi, complimentary food and drink or catching up on the latest news. With family-friendly lounges and quiet workspaces available, there's a lounge at Heathrow to suit everyone.
Simply use the form to the right to search and book specific lounges at Heathrow or read on below to find out more about each lounge and its facilities.
Heathrow Terminal 2 Lounges
Heathrow Terminal 3 Lounges

Heathrow Terminal 4 Lounges

Book Plaza Premium at Terminal 4
Airport Lounge Heathrow Terminal 5
Why book a lounge?
Airport lounges are a great way to steal away from the stresses of the departure lounge; be it to take those important phone calls, sit down to eat or indulge in a spa treatment before you board your flight. The lounges are not exclusively used for business travellers as once thought; those travelling for leisure or with their families are also welcome to enjoy some of the below features that are usually found in an airport lounge:
Complimentary Wi-Fi
Quiet areas to relax
Spa facilities (Plaza Premium Lounges and the Aspire Lounge and Spa)
Family-friendly facilities
A selection of complimentary cuisine and drinks
Magazines and newspapers
Business facilities
Private Meeting Rooms
And much more…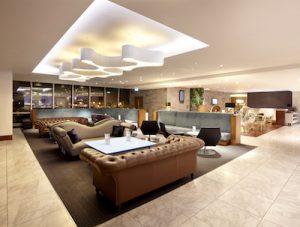 Heathrow Priority Pass
Priority Pass
is a worldwide, independent airport lounge access program.
They have partnered up with lounges in more than 300 cities across the world to bring you a little comfort and luxury to the beginning of your trip.
Choose from one of their 3 annual membership passes detailed below; the different level of membership is based on how frequently you think you'll be using one of the 1300 available lounges:
Explore Heathrow Airport Lounges
Let's have a look at what each of the lounges offer, compare their prices and services and find you your perfect pre (or post) flight treat!
Airline Exclusive: No
Adult Price: From £40 at T2, £35 at T5
Children: £28 (T2) £24.50 (T5)
Plaza Premium Lounge
Enjoy the luxuries of the Plaza Premium lounges for 3, 5 or 10 hours; plenty of time to fit in a massage, snooze in a private resting suite and make the most of the delicious food! They have a lounge in both departures and arrivals so be sure to book one either way to really travel in style.
Services Available:
Complimentary Wi-Fi
Quiet area
Private Resting Suites
Shower facilities
Free newspapers
Food and drinks

Airline Exclusive: No
Price: £34.99

Club Aspire Lounge
The Club Aspire Lounge is located in Heathrow Terminal 5, located to the left of Gate A18, Level 2. In the Club Aspire Lounge, you can take advantage of the "Quiet Zone", free Wi-Fi, alcoholic drinks, complimentary snacks, newspapers and magazines. Children are permitted if they are accompanied by an adult at all times.
Open: 5:00am – 08:00pm daily

Services Available:
Children Permitted
Free Wi-Fi
Quiet area
Free newspapers
Complimentary Food and drinks
Spa facilities
Baby changing facilities

Airline Exclusive: No
Adult: From £36 at Terminal 3
Children: £18
No1 Lounge
Make the most of the complimentary food whilst you look out on the runways from the comfort of the No1 Lounge at Heathrow T3. This family-friendly lounge has something for everyone to enjoy, from a children's area complete with beanbags and a mini cinema to a family games room complete with board games and a pool table.
Open: 4:30am-10:30pm daily
Services Available:
Children Permitted
Entertainment
Free Wi-Fi
Quiet area
Free newspapers
Food and drinks