Heathrow Airport Taxis and Transfers
Please note: Calls to mobile numbers may be charged between 10p-20p per minute from landlines
We offer Fixed Prices with Free Waiting Time. Greeting Service inside Heathrow Airport. Selection of Vehicles available including; Saloon Taxis, MPVs and Minibuses. Accept Cash and Card. Book Online or Call +44 208 688 7744
With over 20 years experience Blackberry Cars offer a reliable service to and from Heathrow Airport. Whether you are travelling into London or further afield, we are here to support your needs. Blackberry Cars offer Meet & Greet inside the terminal as standard. Our drivers are all licenced and vetted by Transport for London so you can rest assured you are in safe hands. We also offer 24 hour Customer Support, Free Cancellations and 100% Genuine Customer Reviews.
REAL is a luxury transfer company in London, serving major London Airports. We pride ourselves on the high level of service and professionalism we offer our clients, right down to hand-picking the perfect drivers for the job. Starting off your trip in style is easy with REAL, as we also serve 5 major ports as well as the airports. REAL provides bespoke services, please contact us. Covid government / TFL guidelines are in place.
1ST Airport Taxis Heathrow provide taxi service to and from Heathrow Airport to all destinations including central London. we can pick you less then 10 minutes from all terminals at heathrow Scheduling a taxi transfer to and from the London Heathrow Airport Book online Web, App or text message or call us, REGUS 450 Bath Road Longford, West Drayton UB7 0EB
How much will a taxi cab cost me from Heathrow?

| To | Distance | Approximate Journey Time | Approximate cost |
| --- | --- | --- | --- |
| Central London | 20 Miles | 60 Mins | £47-£60 |
| Gatwick Airport | 38 Miles | 40 Mins | £63-£71 |
| Southampton | 62 Miles | 70 Mins | £102-£115 |
| Reading | 27 Miles | 36 Mins | £50-60 |
| Luton Airport | 34 Miles | 40 Mins | £59-£75 |
| Stansted Airport | 64 Miles | 70 Mins | £83-£100 |
| Oxford | 47 Miles | 60 Mins | £70 |
* Please note that these prices are only estimates on Heathrow taxis. Fares can vary depending on routes, taxi firm rates and time of journey. Please contact a firm directly for a quotation. You can find out more information about London taxi fares by heading over to the TFL website.
What will the route be?

The above estimates are based on a journey to Central London and we've put together this handy map to help you plan ahead.
This is an estimated journey route from Heathrow Airport to London Bridge station and can vary hugely depending on which taxi company you take, time of day and whether there are areas of heavy traffic or accidents.
If you wish to know more about your route, ask your taxi company in advance.
Heathrow Taxi Services: Why should I choose a taxi over other travel options?

In addition to taking the stress out of your journey, taking a taxi means you won't have to worry about parking at the airport, returning a hire car or catching a specific train and worrying about flight delays. As long as you choose a reputable Heathrow taxi company to get you to the airport on time then you will have little to worry about. A lot of companies will even have a meet and greet service from Heathrow Airport itself, helping take the stress out of your journey.
Our recommended airport taxis, as seen above, have professional drivers, affordable rates, they have a variety of vehicles to choose from, online booking systems, flight tracking and a 24/7 customer service line. If you are looking to explore transport options outside of Heathrow Taxis, take a look at our transport guide for Heathrow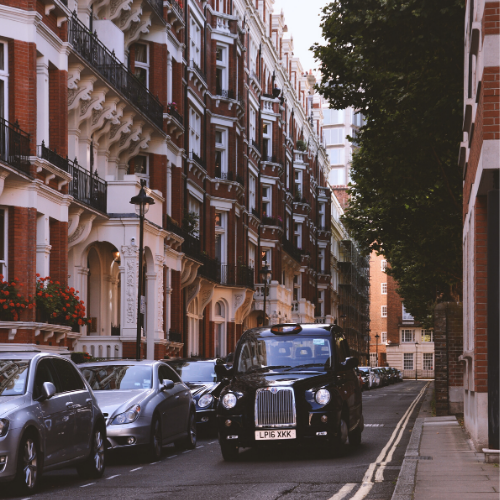 Getting a taxi to Heathrow & back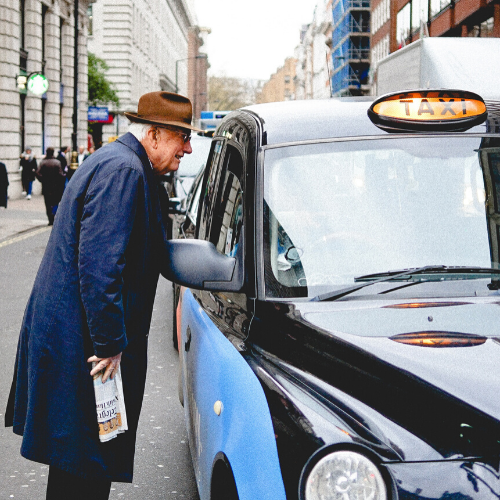 How do return taxis work? Most taxi companies also offer a return journey from the airport which can work out cheaper than booking a different one on your arrival back to the country. It also makes it much more convenient for you if you book a return journey as the taxi company will take your flight number and track your flight on the day of your return and watch for any delays so you can be sure they will be there waiting when you touch down.
You can choose from a range of vehicles. Taxi services are ubiquitous, ranging from London black cabs to saloons, minibuses and executive cars so you can pick the perfect cab to get you and your party on your way. Estate cars and people carriers, which carry more bags or more people, cost more than your standard taxi.
Executive cars are more expensive and seat a maximum of four people, albeit a bit snugly for those in the back. Be sure to book your taxi at least 24 hours in advance, as all prices are agreed before departure.
London is a huge city, and the price of a taxi journey from one postcode or district to another may vary significantly. Individual taxi ranks may offer a discount (or charge a premium) based on any number of factors, so we advise doing your research beforehand. Online booking is an ideal way to ensure that you don't end up stranded outside a terminal in the proverbial rain.
Premium Heathrow Taxi Services

London's transfer specialists offer a wide range of packages for the discerning traveller and therefore you've got lots to choose from. Executive or elite services, providing fancy cars for big-spenders, showcase some of the most desirable vehicles on earth – Ferraris, Mercedes, Lamborghinis, Porsche, etc – all chauffeur-driven to your requirements. Drivers come well-groomed and will provide a meet and greet service.
Furthermore, Premium services also provide little perks – newspapers and bottled water, in-car entertainment, and document printing services – but these are by no means guaranteed and may be specific to a particular taxi firm. Credit card payments are permissible with online booking, and corporate customers may want to take advantage of the account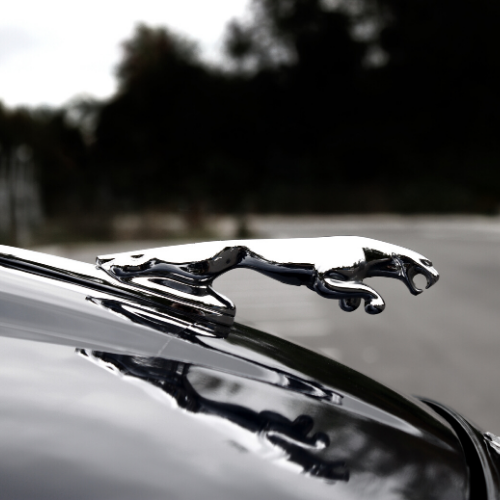 options, removing the need to fill out endless forms and helping reduce taxi fares, especially for frequent flyers. All London transfer companies provide a 24-hour service with fixed prices.
Luxury electric Jaguar chauffeurs
Heathrow Airport have recently teamed up with Jaguar & We Know Group to bring up to 200 electric I-Pace SUV Jaguar vehicles to Heathrow, as part of a new chauffeur service from the airport to Central London. The service is starting with 50 vehicles but looks to add 150 within 12 months. The fare looks to challenge black cab prices, costing around £70-80 per journey, while also being a more environmentally friendly alternative to petrol-run cars. Check out our article here for more info!
Heathrow Airport taxi rank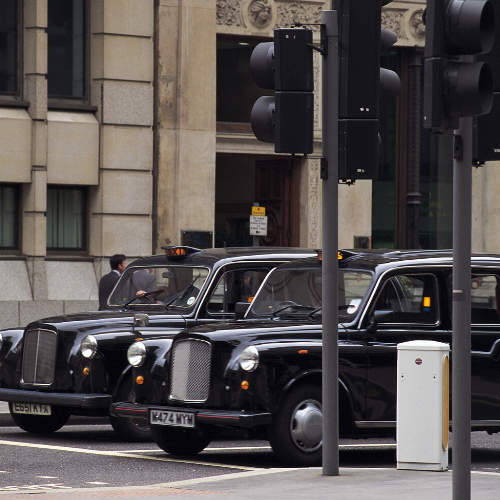 Taxi ranks at Heathrow are located outside of every terminal building and are occupied by London's famous black cabs. You needn't worry about the credibility of the drivers at these taxi ranks as they are all fully licensed and have passed the Knowledge of London exam. Please take into consideration that in peak times there may be limited taxi's or no taxi's at all at the rank. We, therefore, recommend you use one of the companies at the top of this page and prebook to save money!
Terminal 2 – Ground floor outside of the arrivals hall, opposite bus stop 12.
Terminal 3 – Adjacent to Cromer Road West, next to bus stops 16-22.
Terminal 4 – Located outside arrivals between the travel/help information point and Costa.
Terminal 5 – Outside arrivals hall, opposite bus stops 10-12.
Of course, it's important to make sure that your taxi picks you up and drops you off in the right place. Taxi firms will have to arrange to park in the short-stay car park prior to pick up, at a fair cost, and this fee will form part of your total fare.
Where is Heathrow Airport in the UK?

LHR, aka London Heathrow Airport, is just across from Surrey and into the London Borough of Hillingdon. Opposite Heathrow are its neighbours are Slough and Staines, towns made famous by TV shows The Office and Ali G.
Delve into life in the local area, what the local postcodes are and how people find living near Heathrow and get to know where Heathrow is in the UK and what their neighbours are.
The Sights: What can I visit from Heathrow Airport?

Being so close to the Capital: London is your nearest and biggest landmark to visit. In addition to the big theatre shows, local pubs and financial district, Canary Wharf, London is the seat of the UK government. It's a haven of municipal architecture because it boasts some of the most recognisable landmarks in the world. Big Ben and the Houses of Parliament sit on the River Thames, about 16 miles from Heathrow Airport. Parliament is in the very centre of London, and an ideal place to kick off your trip.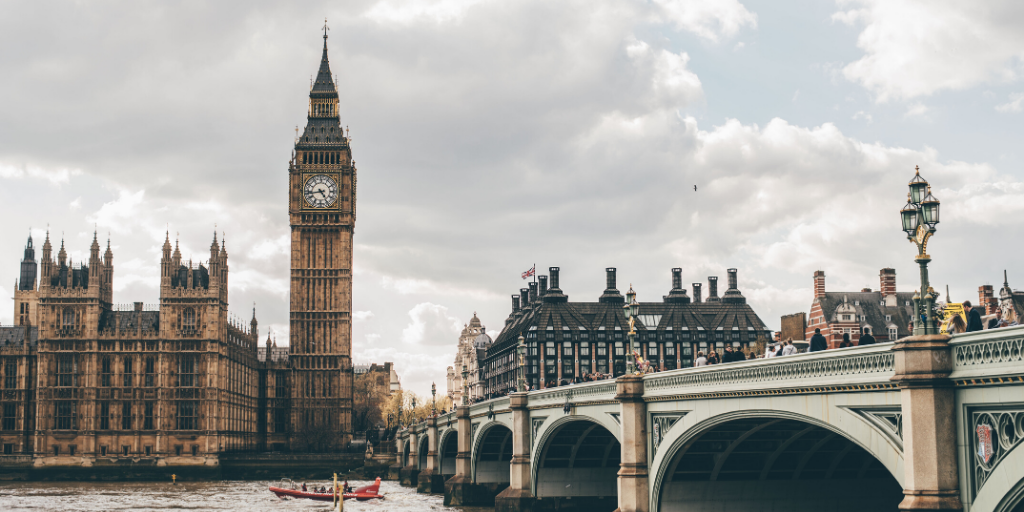 Wind down from your Heathrow flight by taking a trip to the Tate Modern and Tate Britain galleries because it's home to both modern and conventional art from the sixteenth century onwards and makes for an incredible day out. Moreover, the National Portrait Gallery makes a valuable addition to your tour of the capital. Both the Tate Museums are located in the SW1 postcode district, on the south bank of the Thames; whereas the Portrait Gallery sits to the north of the river near Trafalgar Square.
South Bank is one of the most iconic parts of London. The London Eye, arguably the most glamorous fairground ride on Earth, The Globe Theatre and some wonderful sculptures that bring the work of Salvador Dali to metallic life can be found to the south of the river. Lovers of street theatre and drama will enjoy being pestered by the resident mime artists.
There are hundreds of football fans in London and as a result, fans have a paradise of stadia at their feet. Chelsea, West Ham United, Arsenal, Tottenham Hotspur and Fulham FC all claim London as their home. Whilst the clubs are spread throughout London, many Heathrow taxi firms offer an 'airport to landmark' service at a fixed rate.