Senior Travel
Senior travel is becoming a massive part of the travel industry, and there are now so many options out there. Before booking your dream holiday, check out our advice below.
Planning – things to think about
Travel Insurance
Senior travellers need to be covered on almost everything such as flight insurance, medical insurance, vaccinations and so on.
Travel insurance is not the same for senior travellers as it is for many other people.There is a lot to consider, including age, existing medical conditions, and your destination, and you may need a greater level of cover than others. Luckily there are now many companies that specialise in travel insurance for those travelling with medical concerns.If you are going on an adventure travel trip, make sure that any activities you will be doing are covered by your travel insurance.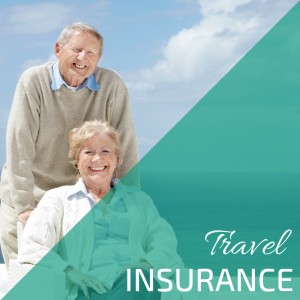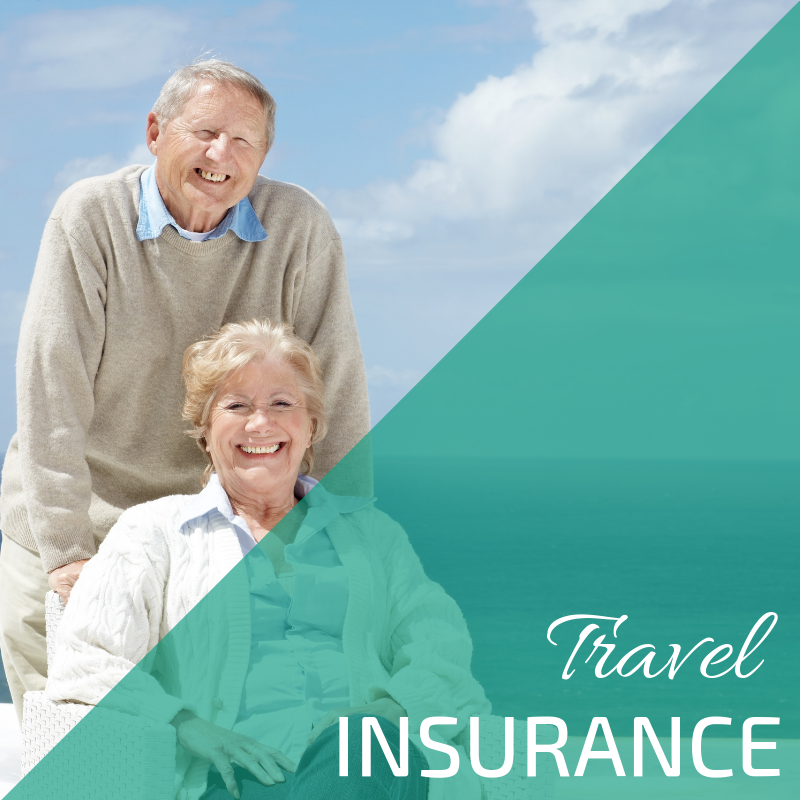 Reading the fine print is key to making sure you have a smooth trip; make sure you know what you are covered for and any maximum age limits the provider may enforce. It is very important to declare all medical conditions to the insurance company, if you do not do this the insurance company have the right to not pay out in the event of a claim and it can in effect invalidate your policy. The risk is just not worth it!
It is also worth making sure that your belongings are also covered, in the unfortunate event that your bag is stolen or your luggage lost.
Medical concerns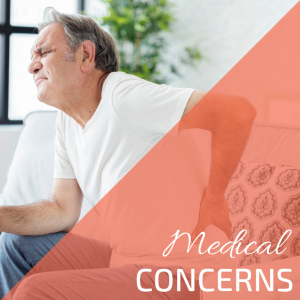 Seek your doctor's advice before planning a trip away. If you have any major concerns these can be raised, and they can also write notes that you might need for insurance/rental companies. You may also need to take an extra supply of medication away with you.
If you need any vaccinations, you will need to get these organised in advance too. It is worth researching what medication can be taken into different countries, as some countries may not allow certain things in, or you may not be able to source a particular medication there. There's a list of common names for medications further down the page.
Booking
Without the usual holiday time constraints, many senior travellers can take advantage of low season prices. These are the times outside of the peak holidays, usually dictated by school breaks. You can also go during shoulder season – the period between low season and peak season. These seasons vary dependent on the destination – for example peak season for a popular skiing destination will be very different to the peak season for a top beach destination. If for example you are planning to visit somewhere in Europe, the seasonality looks like this:
Nov – Mar: Low Season
Apr – Mid-June: Shoulder Season
Mid-June – Aug: Peak Season
Sept – Oct: Shoulder Season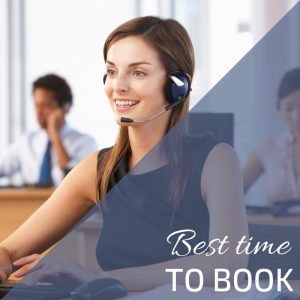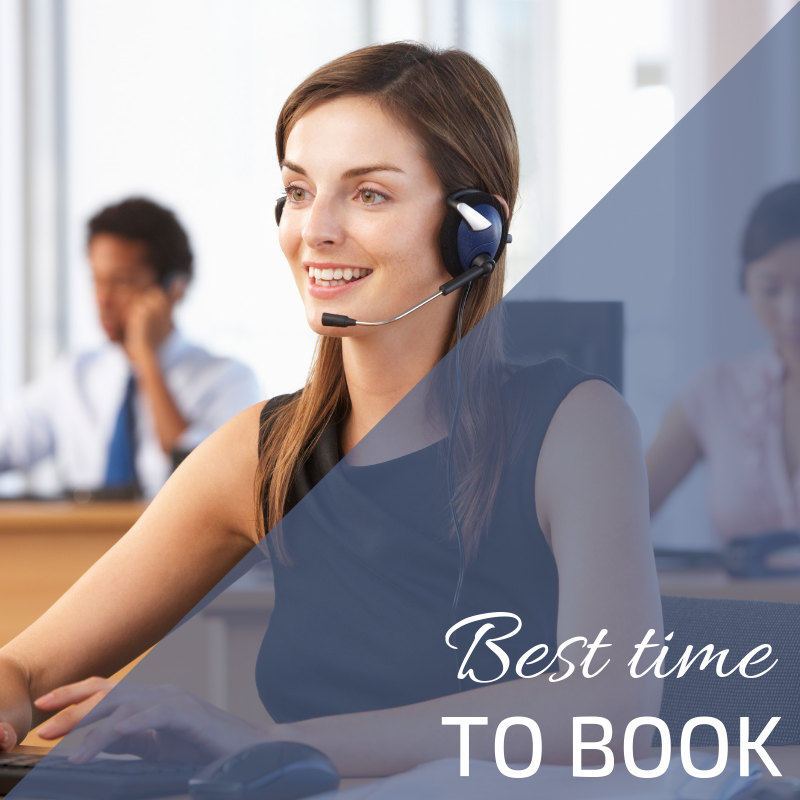 Single Supplements
Package deals are often based upon two people, so unfortunately when you are travelling alone you can be subject to extra charges for being a single traveller. It is best to find out these in advance – if your chosen holiday doesn't mention them, you can always enquire. It is better to be prepared than be surprised by extra charges!
If you want to avoid these, it will often pay to talk to the hotel direct. If you are travelling at shoulder season or low season, hotels are more likely to make an adjustment as they won't be overbooked.
Consider a tour operator – some may specialise in senior solo holidays, however, it is always advisable to take the time to compare the prices of these. Sometimes they are not always the most reasonable!
Another option is considering adventure travel, as these types of holidays are less likely to charge extra for travelling alone.
Research
You should take the time to investigate and research. You can work out if going on a package deal is more cost effective than organising it by yourself, and vice versa.
Package holidays can differ in how they work. There may be an initial "sticker price" advertised, but if you want to add extra trips or tours onto it the price can increase rapidly – this is especially the case with adventure tours.
If travelling outside of peak season it would be wise to check the opening hours and availability of the things you would like to visit. In some cities many things shut down outside of peak times!
Research the type of holiday that you are interested in. If you fancy something a little more relaxing, you can book onto a "slow holiday" – so named as their aim is to take in the local area and culture without rushing from one destination to another. In some cases you can even start off at one hotel, and walk or cycle to the next with your baggage taken care of.
Destinations
Choose your destination carefully. There may be some countries or cities that are not so geared up towards senior travellers. Take into account your own abilities and interests and look at destination guides to be certain you will be getting the best experience from your holiday.
Senior Discounts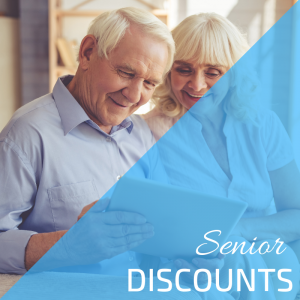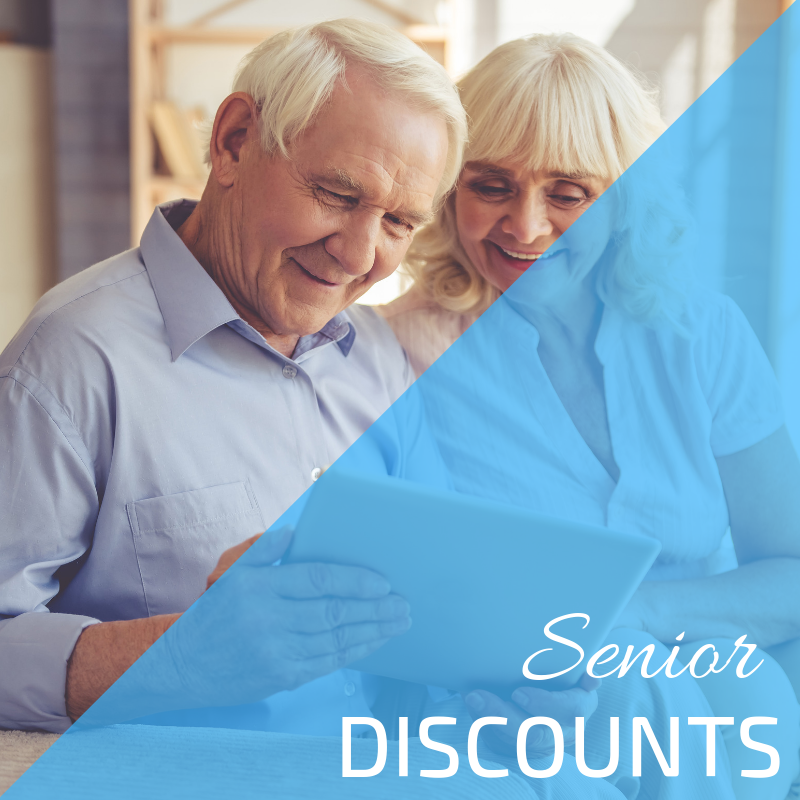 Many places offer discounts or concessions for senior travellers. It is always best to ask as early as possible to see if these are available. In most cases, if you don't ask, it will not be applied, and in the case of booking something you will most likely need to call up and check before going ahead. Senior discounts, concessions, senior citizen fee, and many more are all things that may be used to describe these cheaper prices!
There are many areas that you may be able to save money in including:
Rail – In the UK you can apply for a Senior Railcard, which gives you one third off rail travel in the UK. Similar schemes are available abroad, including Amtrak in America, where you can receive a 15% discount on certain tickets.
Flights – The amount of discount and age that is classed as "senior" will vary, but it is worth checking if an airline has senior discounts available. United Airlines, Air France, and Southwest Airlines are just a few that do offer discounts. Call up in advance and ask, but be wary as there may be cheaper deals to be found elsewhere, especially if it just a blanket discount off certain fares.
Entry to attractions – Many places that you may want to visit whilst abroad will have different fees for senior travellers. Make sure to ask if these aren't advertised just in case they do offer it!
Packing Tips
Here are some things to consider when you are packing for your trip:
Medication: Can this go in your hand luggage and have you checked the rules in advance? Ideally it needs to be kept on your person in case your main luggage goes astray.
Luggage: Consider weight and ease of carrying/transport. You don't want to be struggling through the airport with a heavy suitcase.
Extra pairs of reading glasses/prescription glasses etc in case you lose or damage a pair when abroad.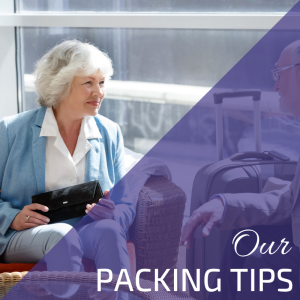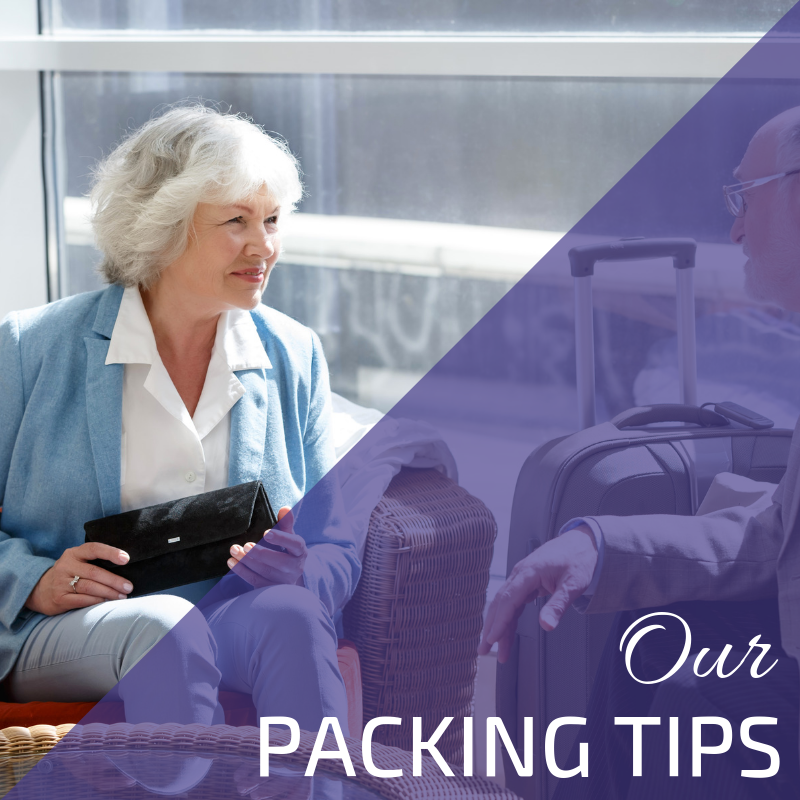 Hearing aids: Do you need spares or spare batteries?
Bring a good blanket and pillow for the flight if you are taking a long-haul flight.
Look ahead to where you will be staying: if it looks like laundry facilities will be available then pack less clothes and just do some washing on the journey.
Car Hire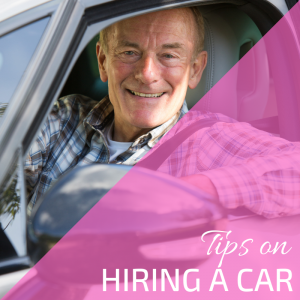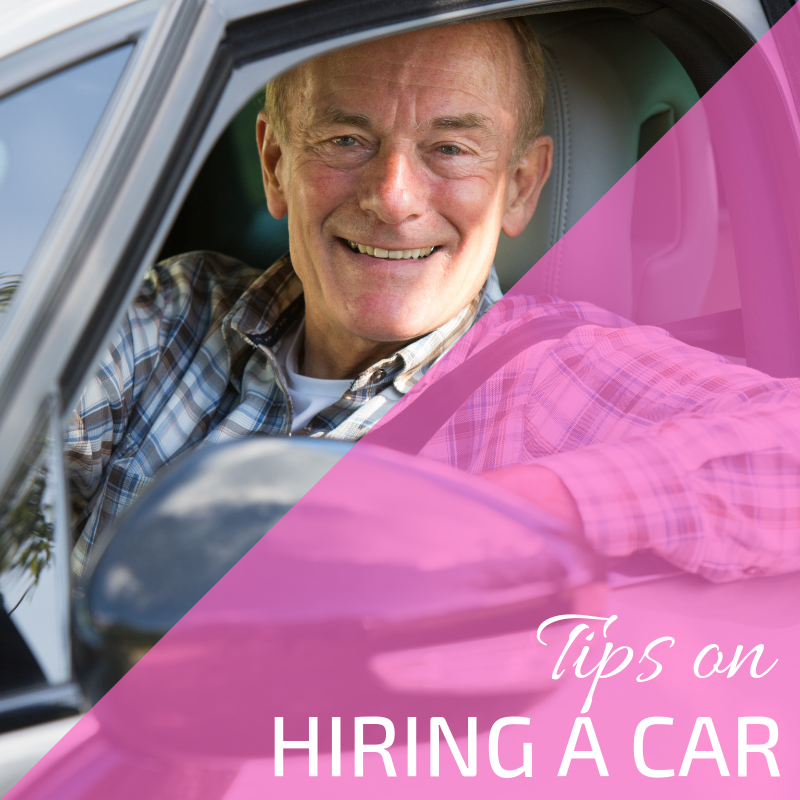 Countries and rental companies will differ in how they treat people over a certain age wanting to rent a car. Age limits vary from between 50 to 75 and up, and there may be surcharges. Each car hire company will use a different insurance provider, and so the upper age limit will increase or vary between companies. There are also rules to be aware of in each country.
The best way to make sure you are covered is to get a confirmation from the car rental company themselves, specific for the location you will be hiring in. Don't rely on their websites for answers – this is not always reliable and you can't always assume that because it isn't mentioned there isn't a policy regarding maximum age.
Another option is to take out insurance with a separate company, and they may be willing to cover a greater age range. This then means you do not have to rely on the car hire company's own insurance which may dictate what age they will hire to.
When travelling
When you are travelling there is plenty to be aware of to ensure you have a safe and successful trip.
Knowing medication terms
Many senior travellers may be on some form of daily medication, so knowing generic names of medicine is vital:
Advil/Motrin
Ibuprofen
Aleve
Naproxen
Tylenol/Excedrin
Acetaminophen
Bayer
Aspirin
Benadryl
Diphenhydramine
Dramamine
Dimenhydrinate
Bonine
Meclizine
Pepto-Bismol
Bismuth subsalicylate
Imodium
Loperamide
Calcium carbonate, aluminium hydroxide or magnesium hydroxide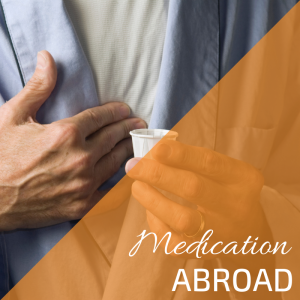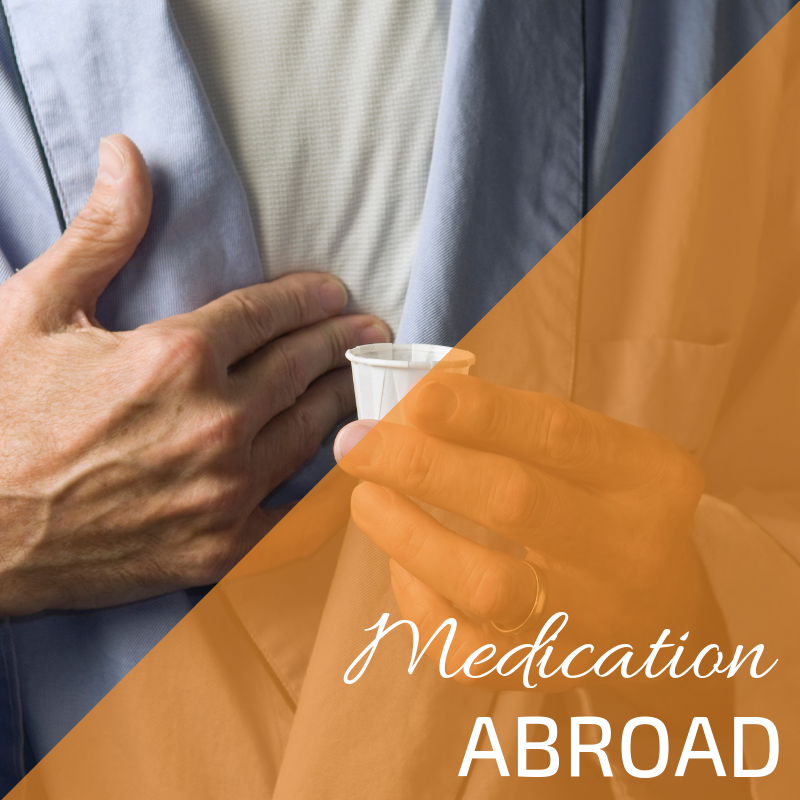 Solo Travelling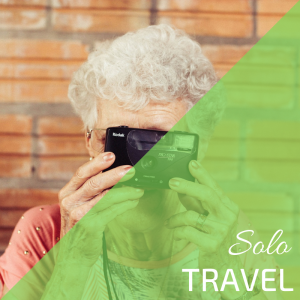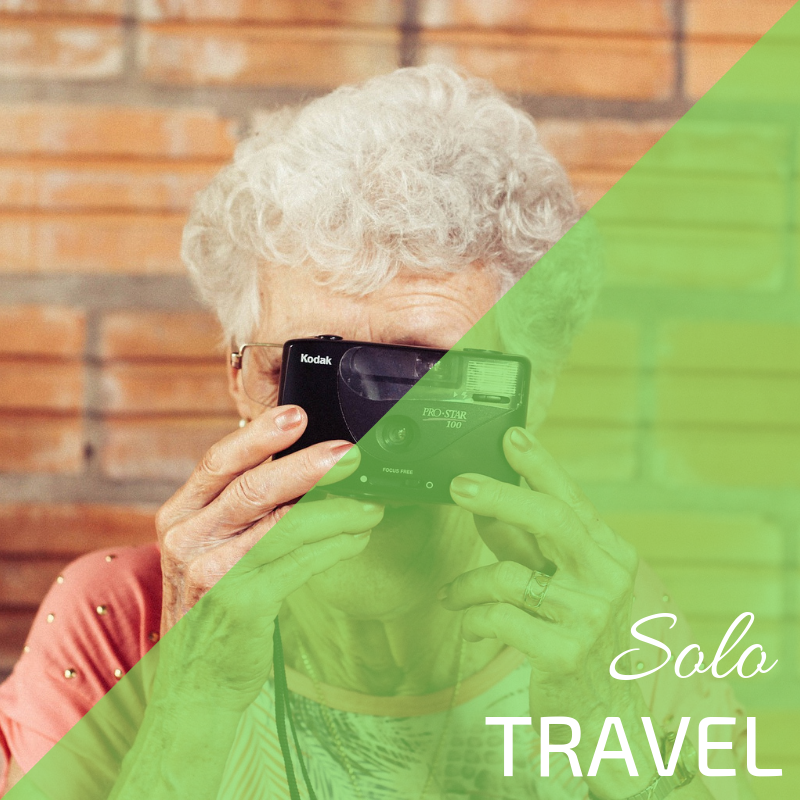 Many travellers choose to go abroad alone as they get older, and there is now quite a market for solo travelling.
You can go abroad by yourself, but you can also take part in package holidays where you join a group of likeminded people. This can be a great way to go on holiday if you don't have anyone you know who would like to go, as well as a great way of making friends.
Prepare as much as you can do – you may think you are prepared but there is always plenty that can go wrong!
A good idea can be to have one base and explore from there. You can base yourself in a central, well connected city and do day trips or longer away from the city, maximising the travelling potential.
If you are a little nervous about venturing out into the world by yourself, consider booking a package group tour or a cruise. They will mostly have organised outings, so you can see things with a little more structure and have company when you choose.
Check out reviews online for places you intend to go to. These can be valuable in giving you an idea of what a place is like – be it accommodation, dining, or a particular location. It is important to do this for your safety.
Book transport in advance where you can. You do not want to be taken in by companies who will rip you off or have dubious protocols if you are by yourself!
Make sure someone knows your itinerary and that you can check in where you can. If someone is expecting you to be at a certain place at a certain time it is a lot easier to know if things have gone wrong.
Eating! Check out the local customs of your destination – in some places it is completely acceptable to eat by yourself and others not so much.
Don't advertise that you are alone! Pickpockets and thieves will often be on the lookout for people who they perceive as "vulnerable". An older person by themselves may fall into this category. One idea can be to carry a dummy wallet – filled with a bit of money and a few other convincing items. This way if you do find yourself in a difficult situation you can hand the dummy wallet over instead of your real one.
Look at out of the ordinary ways to travel – couch-surfing can be ideal, as you can take the advice and recommendations of the people you are staying with. Other websites allow you to rent out rooms in a house for a certain length of time, which can work out cheaper than a hotel room.
What do you value most?
Before booking a holiday, you should work out what your priorities are. This is the same whether travelling alone or travelling independently; if your priorities lie with making sure your accommodation is comfortable and top notch, then cutting corners on this aspect will mean you won't enjoy your holiday as much.
This also applies when you are on your holiday, if you really don't like going on group tours, don't book one in just because it was a good deal. Pick your activities based on what you want to do and what will bring you the most enjoyment out of your holiday. If you are travelling with a friend or partner whose interests differ to yours, be prepared to make compromises so that you both do something you enjoy.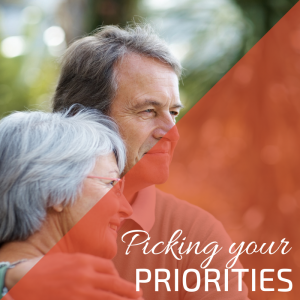 Overseas Adventure Travel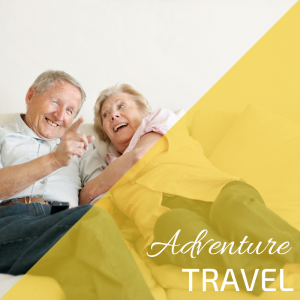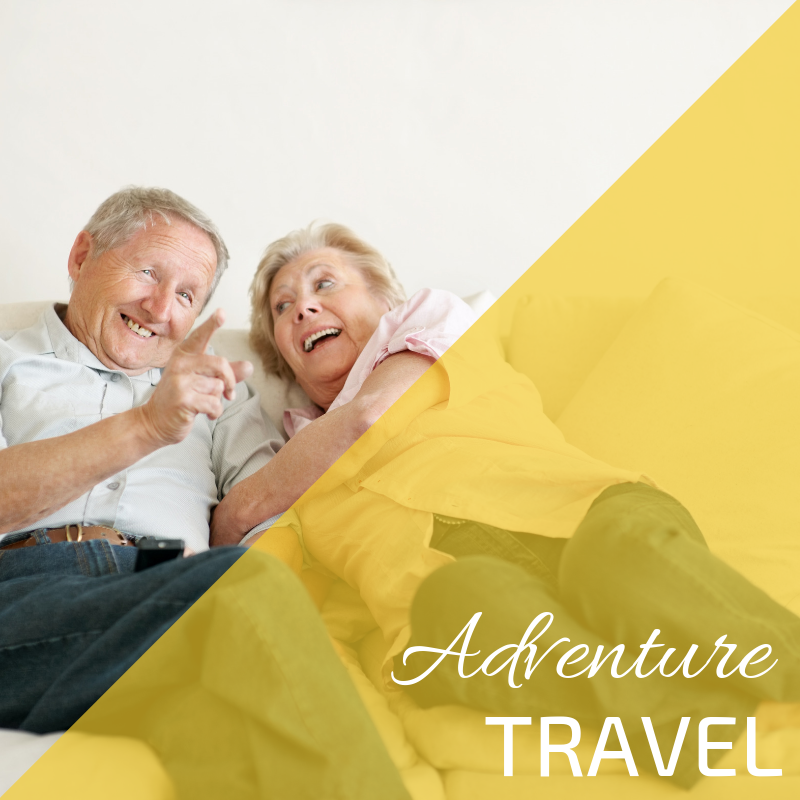 Adventure travel has taken the world by storm, and in recent years it is now even more popular with senior travellers. There are many tour operators and companies out there dedicated to providing adventure holidays for the senior traveller.
You can be sure that when booking through these companies you are signing up for an experience that is tailored to the your needs, but options often include the ability to have family come with you.
You can dip your toe into hiking holidays, water sports, cycling holidays, or perhaps even camping in the arctic!
There is a huge variety of trips you can take – however, just because the company markets its trips towards seniors, still make sure to do your research. Be realistic with your fitness levels and comfort levels, as some of the trips may involve difficult conditions.
For any more information, or to whet your appetite a little more, have a read of this article on why adventure travel for the over 55s is on the rise!