In the UK, the past two winters have caused chaos at airports, on motorways, and just about everywhere else, as heavy snows and freezing temperatures descended on the country in December, January, and February. In short, we all hate it when the weather disrupts flight from Heathrow.
This year, despite the lessons of previous winters, Britain is still strangely unable to cope with snow and ice.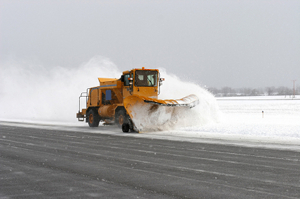 The exception to the rule is perhaps London's first airport, Heathrow. The hub recently spent £500,000 on 'winter-proofing' the runway. The shopping spree, which included the purchase of snowploughs and de-icing machines, is a response to snow-related closures in the winter of 2008.
Heathrow now has 69 vehicles on its Snow Team (including the new Heathrow Snowploughs), with 500,000 litres of de-icing fluid at their disposal.
The team appears to be an enhanced maintenance crew, enjoying mundane duties, such as cleaning debris from the runway, as well as specialist winter tasks, like scrubbing snow from the apron.
David Whittington, chief of airside operations at the London airport, noted that runways are always cleared first, followed by taxiways. "We've got up to 200 aircraft coming toward Heathrow at any one time, so we have to make sure that we have a platform for them to land on."
Aircraft are also employed to clear snow from the runway. The engines of departing planes produce a great deal of heat, which can melt icy patches in seconds.
However, planes will not normally be allowed to take off if weather conditions present a serious threat to life and wing, ensuring that this tactic can only be used in minor flurries.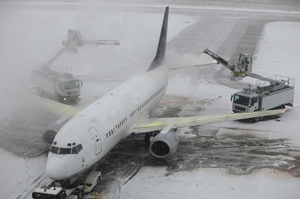 Heathrow claims to be the only UK hub not to experience closures in winter 2009, and the airport is still performing admirably against Mother Nature, surviving the recent snowstorm without closing its doors.
However, with 3 months of winter still waiting on the other side of the calendar, the Snow Team is likely to have its mettle tested on more than one occasion before the daffodils reappear in the spring.